College Football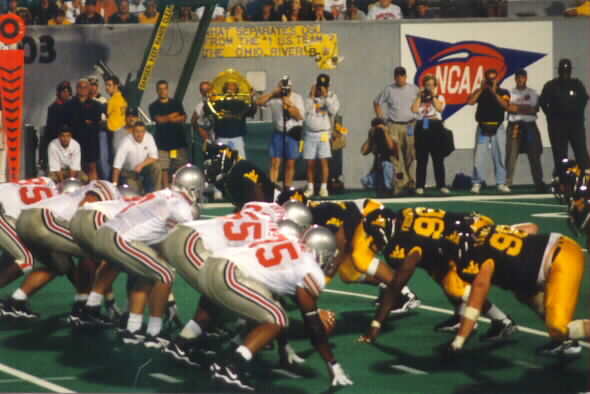 I am a football fan with a strong preference for college football. My two favorite teams are The Ohio State University and West Virginia University. They have played each other twice in my lifetime and I was able to attend both games. I took the picture above in their 1998 meeting at Mountaineer Field in Morgantown, WV. Unfortunately, this was not a good year for either team. West Virginia did beat Pitt, so the season did end on a good note.
Whenever my two favorite teams play, I am torn about who to cheer for. In 1998, I solved that problem (as you can see by clicking on the thumbnail to the left). The right side of my face and my shirt were for West Virginia while the left side of my face and my hat were for Ohio State.
I took the rest of the pictures on this page at Ohio Stadium. This one is of the greatest football coach the game has ever know. He was not only a great student and teacher of the game, but a great man and leader as well. His players had a great deal of respect and admiration for Woody Hayes. I took this picture while I was in vet school at Ohio State and several years later, I able to get him to sign it for me.
In this picture, Mike Tomszak is handing the ball off to Keith Byars.
And on the same play, Keith goes into the end zone......
.....while Mike signals "Touchdown" from back behind the line of scrimmage.
These two played for Ohio State back when we used to beat Michigan on a regular basis instead once every decade.
In this play the quarterback (Art Schlichter) has just pitched the ball back to the tailback (Cal Murray) while Volley (the fullback) leads the way. If you enlarge the thumbnail, you can see the ball in mid air just in front of Cal's hands as coach Earl Bruce watches from the sideline in his white sweater.
In Columbus, on a Saturday afternoon in the fall, over 90,000 people come to Ohio Stadium to see not only the football team, but also "The Best Damn Band In The Land" (T.B.D.B.I.T.L.), The Ohio State University Marching Band. The band is the largest all brass band in the world. If you get there early enough, you can watch their warm up session (skull session) in St. John's Arena, just north of the stadium. It only holds 14,000 people and it fills up quickly. I have all 15 of the albums and CD's that the band has produced. I have seen many great bands over the years, but none can compare to this one.
For more information about my favorite football teams check out these sites:
T.B.D.B.I.T.L. (marching band)