Bonaire 2018
The Donkey Divers Celebrate 20 Years of Diving
In 1998 I went to Bonaire for the second time and met a great group of people who enjoy diving as much as I do. Some were getting their Open Water certification. Some of us were taking an Advanced Open Water certification course. Most of us had less than 100 dives at the time.
We enjoyed diving and got along really well. We decided to stay in touch and plan some dive trips together. We formed a group and called ourselves The Donkey Divers. We have been diving together ever since and have added new members to our group along the way.
Four of the original Donkey Divers, along with 5 more members that we have picked up over the years, were joined by 3 first timers to return to Bonaire and celebrate the 20th anniversary of our formation.
One of the things I like about Bonaire is that you can dive any time you want and as much as you want.
We usually eat breakfast and lunch in the room to save time and get in more dives. This week we made two night dives and one dawn dive. If you have never made a dawn dive, you should try it at lest once. We get into the water about half an hour before sunrise and watch the ocean wake up. It is interesting to see the night creatures start to hide and disappear and then the day creatures and fish seem to appear out of nowhere. Some species appear all at once in large numbers and others seem to come out one at a time.
Here is my dive log for the week.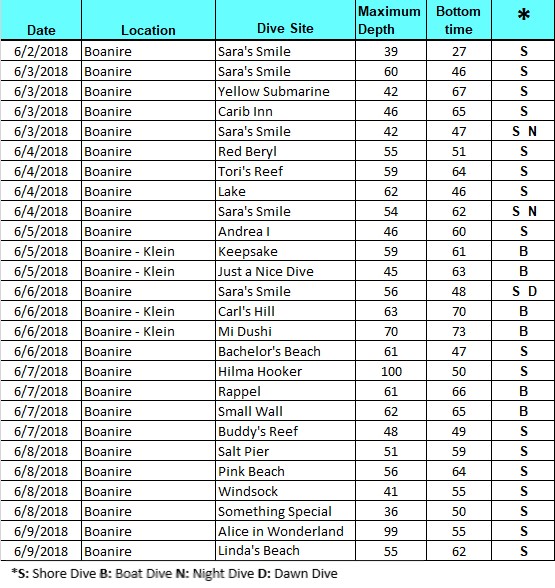 Below are thumbnail pictures from our trip. Click on the thumbnails and a larger version of the picture will open up in a lightbox with a description of the picture.
From there you can click on the "NEXT" or "PREVIOUS" tabs that will appear when you hover over them on the right or left side of the picture. Or you can click the "CLOSE" below the picture or just click on the background off the picture to return to this page.
There is link in the column to the right that will take you to a short video of our trip.