Motorcycles
My Motorcycles
I bought my first motorcycle when I was in undergraduate school at West Virginia University in Morgantown, WV. Parking was hard to find for cars and the hills are pretty steep if you riding a bicycle. But a motorcycle would get around the town quickly and easily and parking was pretty easy to find for a motorcycle. Most mornings I had classes starting at 8:00AM on the Evansdale Campus and then I would have to go Ag Building to the Downtown Morgantown Campus for a class with only 10 minutes to travel over 3 miles in heavy traffic, park and walk to the Chemistry building. A small motorcycle made the trip possible.
My first motorcycle was Honda SL100. It was a small dirt style bike that was street legal. I don't have a good picture of the bike but here is a picture of me and my youngest sister, Emma. This motorcycle served me well during my last year at WVU and my first week at Ohio State but it was stolen the second week that I lived in Columbus, so I went back to walking to school for the next four years.
About a quarter of a century later, I bought my first Harley Davidson, a 1999 Sportster. I was living in Greensboro, NC at that time and it was a great bike for riding around town.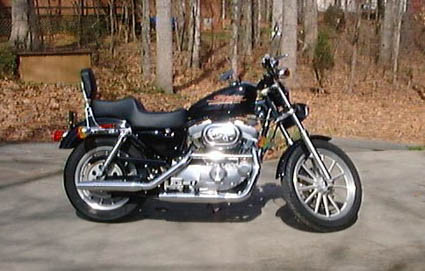 I liked riding my Sportster in Florida year round. While I lived in North Carolina it sat in the garage half of the year. However, the first time I road the Sportster to Daytona for Bike Week, it nearly beat me to death. That's when I decided that I needed a bigger bike for long rides. I went out and bought a new Road King for long rides and I kept the Sportster for riding around twon. So, then, I had two Harleys.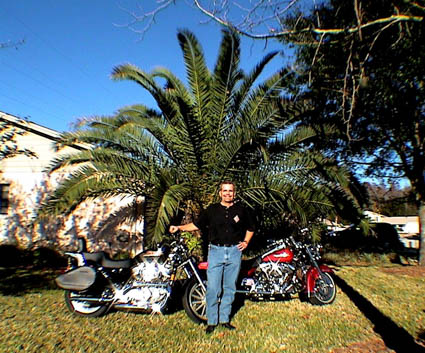 It didn't take me long to get spoiled by the Road King. That bike rode so smoothly that it wasn't long before I wasn't riding the Sportster at all. So, I sold the Sportster an now I have just one Road King.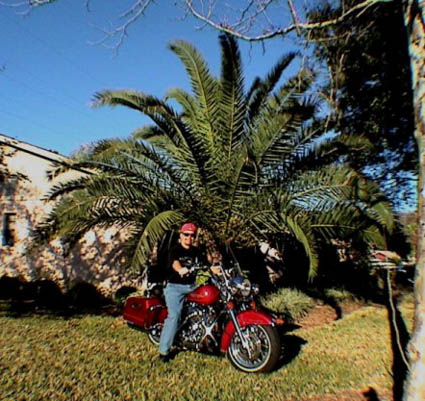 Four years later I got a new 2008 Road King and got my friend at Moe Colors to do a custom paint job with scarlet and gray overlapping flames.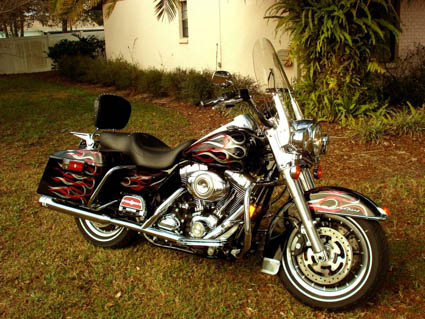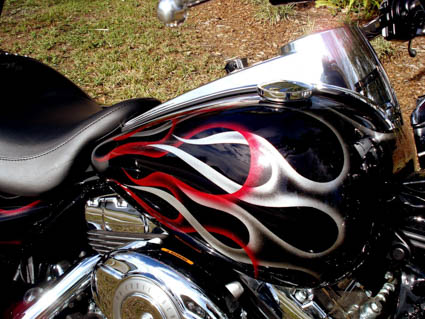 In 2015 a car ran a stop sign and pulled out right in front of me and that was the end of that beautiful motorcycle and nearly the end of me. After several months of wheel chairs, walkers and crutches, I purchased a 2010 Road King with many upgrades. I am still riding that bike.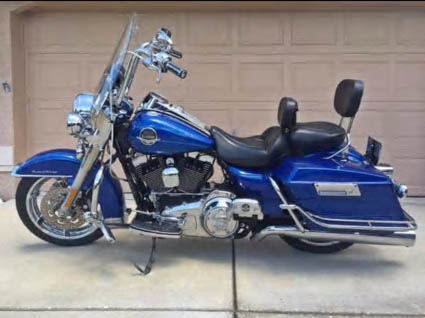 All of my bikes have enjoyed going to the beach.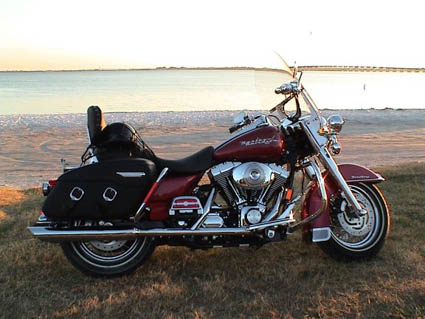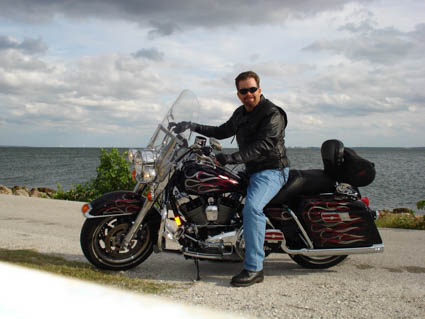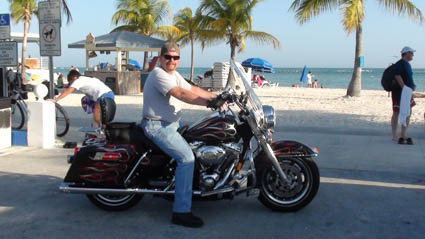 I'm still working on the motorcycle page. Check back later to see the finished product.